Book Sales Support Way
Looking for great reads at amazing prices?  Due to our ever-enlarging inventory, we now have an ongoing book sale on the library's lower level.  You can buy books during library open hours at dramatically reduced prices. Inventory consists of thousands of books including fiction (hardcover and paperback), children's books, inspirational, religious, cookbooks, and large print.  In addition, we have recently added a large selection of DVDs, Blu-rays and Music CDs.
While you are here, don't forget to check out our "Specials" racks in the main lobby.  These "like new" hot titles are available every day at prices that can't be beat.  New titles added daily.
Now Hear This!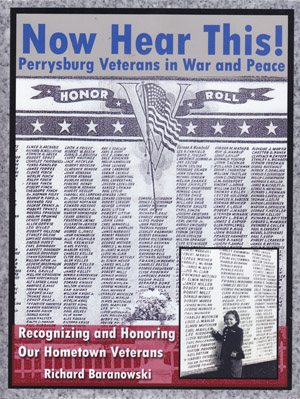 Way Library is pleased to announce the release of the book, Now Hear This!  Perrysburg Veterans in War and Peace.   It was written by Local History Librarian, Richard Baranowski. 
The book contains 71 stories of local veterans talking about their life in the service.  The book was largely transcribed from personal interviews over the past 15 years, including many who fought in WWII.  Now Hear This! also contains more than 200 wonderful photographs of our local veterans. 
Another fine history book for Perrysburg!  Put it on your Christmas list!
You can now order the book for $27.00 plus $5.00 for shipping (total: $32.00).  Alternatively, you can purchase the book at the Way Public Library Information Desk.